The following content may contain affiliate links. When you click the links we may receive a commission.
So this year instead of my traditional jewelry or a Louis Vuitton handbag my husband wanted to shake things up for Christmas. Enter the most fabulous gift ever! A day at 3 of my favorite local spas Casa Palmero at Pebble Beach, Aquista at the Hyatt Monterey and Vista Blue at the Monterey Plaza Hotel and one at the Surf & Sand Resort in Laguna Beach. He seriously knows what I like.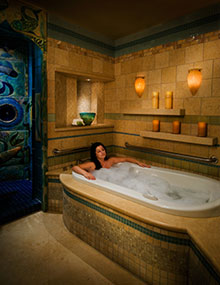 Water Experience Rainfall Shower…
So not one to waste time, I booked Casa Pamero first and right after the New Year to refresh and start my resolution off right. I went for the Walk in the Forest package, a 50 minute facial, 70 minute massage and a body scrub. I added in the Water Experience since it looked great and lunch.
I arrived a few minutes early and was treated by the front desk staff. She checked me in (a little trouble with my name) and oddly processed my payment right away. Weird since I had a card on file and had been here numerous times, plus I wanted lunch and a perous around the gift shop. After I paid (gratuity too! Since they add that auto 20% and in advance!?) I was met by the locker attendant… seriously the hardest working person there. She showed me through a super cute fireside lounge and into the locker area. After changing the magic began.
Locker Room
Brought to a private room filled with a bathtub and the most amazing shower ever, I was left alone to soak my New Year in with style. The tub was perfect except the overwhelming amount of bubbles, that I kicked down to the bottom of the tub. I had a glass of chilled water and cucumbers for my eyes. Truly divine.
Private Bath
After about 10 minutes I was brought to the steam room and left again with chilled water and a cold towel. After another 10 minutes I was brought back to my private oasis and lead to the most amazing shower ever. A warm waterfall of water with, 12 cool water nozzles and a mister. Truly a unique experience. I could only do a few minutes since I'm short and one of the sprayers was right in my face! After I relaxed in the jacuzzi, did anther round of steam and showered for the next treatment. A blissful dry sauna and shower, brought me to the inhalation room. A quite sanctuary, of soft music and just the right amount of aromatherapy.
Jacuzzi Room.
Inhalation Room
A little no-no spa moment…. Went to use the bathroom and some lady was taking a #2 with the door open! WTF!!! She apologized but I was totally creeped out. So I made a quick retreat back to the inhalation room… where she soon followed me.
My lunch arrived so I headed upstairs to the conservatory. An OK Cobb salad (hold the blue cheese) and a wheat roll that I skipped. Again very concerned with the payment! What am I going to run out in the bathrobe and slippers?
The weird #2 lady stared at me the entire time so I ate fast (like under 10 minutes) and made my way to the gazebo. The fire was on and it was a bit toasty but perfect once I got settled. Cool water and raw almonds, banana chips and cranberries awaited me.
The creppy lady followed me to the gazebo and tried to start up a conversation… I just couldn't do it. So I went back to the conservatory… where my therapist soon came to find me.
My first treatment was the citrus Seagrass scrub. My therapist met me in the conservatory and brought me to a wet room. Super excited to see the Vische ready to go. He explained the treatment and let me test drive the products before stepping out so I could get on the table. He returned and began with the scrub… A yummy lemongrass scent that he mixed with oil and worked in. I loved that he started with a light touch and progressed into stronger pressure. We started face down so that after the flip, and front scrub we could go right into the vische. Now if you have read my blog before you know this is my favorite treatment. The water was a perfect temp but I suddenly found my self cold. He covered me with a large towel and combined with the water I warmed back up. After the rinse I was disapointed to have to lay on wet towels for the light massage. It just wasn't comfortable and didn't help me warming up. I guess I got spoiled at the Maui Hyatt with their fancy towel techniques. The massage was great and the warm honey butter was the perfect scent to compliment the the lemongrass scrub.
Vishce Shower at Pebble Beach
I believe they were both by GloBody, which I have reviewed before here. When the treatment was complete my therapist left me to dress. Getting off the table was tough since everything was slippery, but I made it without injury. He returned me to the conservatory for a snack and to wait for my Pebble massage
After a short wait I was brought to a room at the end of a long hall. I passed a few treatment rooms and each had its own fireplace and looked cozy. I was super excited since I was still freezing….sadly I got the plain boring room. No fireplace and no real ambiance at all. Disappointing since the whole place had excited me with its decor so far. My therapist was super nice and explained the treatment and stepped out so I could disrobe. When she return she made the table more comfy since it was probably the worst table I have ever been on. She sprayed the air with sage… a nice touch and I began the zoning out process. The Pebble is a hot stone massage and just fantastic. She began on my feet the stones were super hot, nice for me but I can see someone else not enjoying that much heat. Working her way up my legs she really concentrated on my hip and lower back…A+ for her… She actually listen to my request. After completing the legs she moved to the back. The hot stones warmed me up and she left a few on my back to keep the muscles soft and warm. After the flip she layed a few more down for me to lay on and it really made a difference. She even put tiny pebbles between my toes… I didn't enjoy this the last time I had this treatment but it felt great this time. Once she moved to my neck and shoulders I totally spaced out. Overall she had a great touch, friendly attitude and comfortable personality. When the treatment was complete she brought me to the conservatory for another snack(banana) and some water.
As I waited for my facial… creepy lady returned and I tried to look super busy and occupied on my Ipad. It worked. My facial started late by 7 minutes and you have to walk all the way around the spa and downstairs to get there, plus disrobe and wait for her to return. So what should have been a 50 facial was probably closer to 35, disapointing since it cost $145 for just a basic facial. I was in the Lilac room… nothing fancy and it had a rancid sushi/ginger smell. Not appealing. We started with warm mitts, a very nice touch, but the lotion had that nasty ginger smell too. After she looked at my skin under a light and then held her hands over my face to inhale an aromatherapy oil (again with the nasty ginger smell.) She started the facial with a glycolic cleanser, I like that she didn't talk too much but gave me the neccessary info like, the cleanser might have some light activity. As a daily Glycolic user, I didn't feel anything. She moved on to the most refreshing peppermint scrub, followed by a pumpkin enzyme mask and another papaya enzyme mask. All of which smelled amazing. We were then on to extractions, she had a nice touch, and attempted all my many post holiday breakouts. Then applied a drying solution and calming mask. She ended the treatment with a vitamin c serum and a tinted spf/moisturizer. Overall a nice facial and would have ranked higher if there wasn't that awful ginger smell.
I ended the day with another shower in their regular rainfall shower, another awkward moment with the creepy lady and a semi-rude browse through the boutique. With no help and an unfulfilled wish for the peppermint scrub.
I love Casa Palmero and go at least twice a year. The water rituals alone are worth the visit. But be prepared for semi-rude service, high prices and shorter than expected treatments.